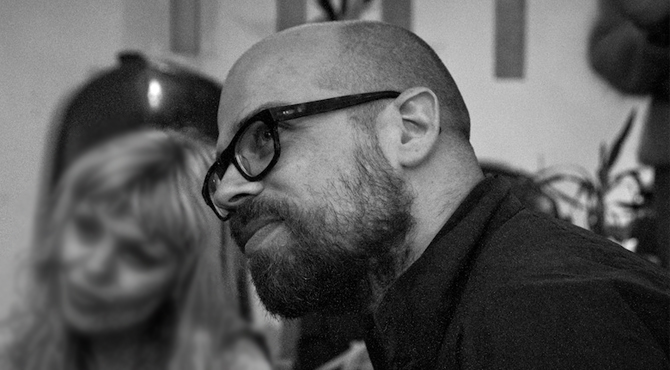 We're sitting upstairs, hunched over a computer, and Martin is showing me the darknet. I guess I have as good an idea as most people what the darknet is, i.e. not much. We're looking at the page of someone claiming to be in the UK who's selling "locally produced" cannabis, and Martin is wondering if there's any way of telling if it's blood cannabis. How you would go about determining this? Much of what is sold on these markets is illegal, and can lead to prosecution, as with any market for illegal products.
But we're not buying anything, just looking. The stringent ethics process governing his research means he currently can't even contact anyone on the marketplace.
[Read more: Exploring the Darknet in Five Easy Questions]
Martin Dittus is a Data Scientist at the Oxford Internet Institute, and I've come to his office to find out about the OII's investigation (undertaken with Mark Graham and Joss Wright) of the economic geographies of illegal economic activities in anonymous Internet marketplaces, or more simply: "mapping the darknet." Basically: what's being sold, by whom, from where, to where, and what's the overall value?
Between 2011 and 2013, the Silk Road marketplace attracted hundreds of millions of dollars worth of bitcoin-based transactions before being closed down by the FBI, but relatively little is known about the geography of this global trade. The darknet throws up lots of interesting research topics: around traffic in illegal wildlife products, the effect of healthcare policies on demand for illegal prescription drugs, whether law enforcement has (or can have) much of an impact, questions around the geographies of trade (e.g. sites of production and consumption), and the economics of these marketplaces—as well as the ethics of researching all this.
OII researchers tend to come from very different disciplinary backgrounds, and I'm always curious about what brings people here. A computer scientist by training, Martin first worked as a software developer for Last.fm, an online music community that built some of the first pieces of big data infrastructure, "because we had a lot of data and very little money." In terms of the professional experience he says it showed him how far you can get by being passionate about your work—and the importance of resourcefulness; "that a good answer is not to say, 'No, we can't do that,' but to say: 'Well, we can't do it this way, but here are three other ways we can do it instead.'"
Resourcefulness is certainly something you need when researching darknet marketplaces. Two very large marketplaces, AlphaBay and Hansa were recently taken down by the FBI, DEA and Dutch National Police, part-way through Martin's data collection. Having your source suddenly disappear is a worry for any long-term data scraping process. However in this case, it raises the opportunity of moving beyond a simple observational study to a quasi-experiment. The disruption allows researchers to observe what happens in the overall marketplace after the external intervention—does trade actually go down, or simply move elsewhere? How resilient are these marketplaces to interference by law enforcement?
Having originally worked in industry for a few years, Martin completed a Master's programme at UCL's Centre for Advanced Spatial Analysis, which included training in cartography. The first time I climbed the three long flights of stairs to his office to say hello we quickly got talking about crisis mapping platforms, something he'd subsequently worked on during his PhD at UCL. He's particularly interested in the historic context for the recent emergence of these platforms, where large numbers of people come together over a shared purpose: "Platforms like Wikipedia, for example, can have significant social and economic impact, while at the same time not necessarily being designed platforms. Wikipedia is something that kind of emerged, it's the online encyclopaedia that somehow worked. For me that meant that there is great power in these platform models, but very little understanding of what they actually represent, or how to design them; even how to conceptualise them."
"You can think of Wikipedia as a place for discourse, as a community platform, as an encyclopaedia, as an example of collective action. There are many theoretical ways to interpret it, and I think this makes it very powerful, but also very hard to understand what Wikipedia is; or indeed any large and complex online platform, like the darknet markets we're looking at now. I think we're at a moment in history where we have this new superpower that we don't fully understand yet, so it's a time to build knowledge." Martin claims to have become "a PhD student by accident" while looking for a way to participate in this knowledge building: and found that doing a PhD was a great way to do so.
Whether discussing Wikipedia, crisis-mapping, the darknet, or indeed data infrastructures, it's great to hear people talking about having to study things from many different angles — because that's what the OII, as a multidisciplinary department, does in spades. It's what we do. And Martin certainly agrees: "I feel incredibly privileged to be here. I have a technical background, but these are all intersectional, interdisciplinary, highly complex questions, and you need a cross-disciplinary perspective to look at them. I think we're at a point where we've built a lot of the technological building blocks for online spaces, and what's important now are the social questions around them: what does it mean, what are those capacities, what can we use them for, and how do they affect our societies?"
Social questions around darknet markets include the development of trust relationships between buyers and sellers (despite the explicit goal of law enforcement agencies to fundamentally undermine trust between them); identifying societal practices like consumption of recreational drugs, particularly when transplanted into a new online context; and the nature of market resilience, like when markets are taken down by law enforcement. "These are not, at core, technical questions," Martin says. "Technology will play a role in answering them, but fundamentally these are much broader questions. What I think is unique about the OII is that it has a strong technical competence in its staff and research, but also a social, political, and economic science foundation that allows a very broad perspective on these matters. I think that's absolutely unique."
There were only a few points in our conversation where Martin grew awkward, a few topics he said he "would kind of dance around" rather than provide on-record chat for a blog post. He was keen not to inadvertently provide a how-to guide for obtaining, say, fentanyl on the darknet; there are tricky unanswered questions of class (do these marketplaces allow a gentrification of illegal activities?) and the whitewashing of the underlying violence and exploitation inherent to these activities (thinking again about blood cannabis); and other areas where there's simply not yet enough research to make firm pronouncements.
But we'll certainly touch on some of these areas as we document the progress of the project over the coming months, exploring some maps of the global market as they are released, and also diving into the ethics of researching the darknet; so stay tuned!
Until then, Martin Dittus can be found at:
Web: https://www.oii.ox.ac.uk/people/martin-dittus/
Email: martin.dittus@oii.ox.ac.uk
Twitter: @dekstop
Follow the darknet project at: https://www.oii.ox.ac.uk/research/projects/economic-geog-darknet/
Twitter: @OiiDarknet