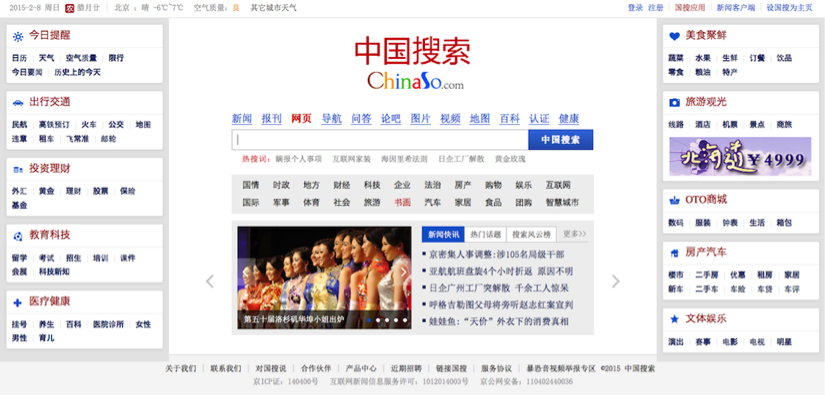 When Jike, the Chinese state-run search engine, launched in 2011, its efforts received a mixed response. The Chinese government pulled out all the stops to promote it, including placing Deng Yaping, one of China's most successful athletes at the helm. Jike strategically branded itself as friendly, high-tech, and patriotic to appeal to national pride, competition, and trust. It also signaled a serious attempt by a powerful authoritarian state to nationalise the Internet within its territory, and to extend its influence in the digital sphere. However, plagued by technological inferiority, management deficiencies, financial woes and user indifference, Jike failed in terms of user adoption, pointing to the limits of state influence in the marketplace.
Users and critics remain skeptical of state-run search engines. While some news outlets referred to Jike as "the little search engine that couldn't," Chinese propaganda was busy at work rebranding, recalibrating, and reimagining its efforts. The result? The search engine formally known as Jike has now morphed into a new enterprise known as "ChinaSo". This transformation is not new—Jike originally launched in 2010 under the name Goso, rebranding itself as Jike a year later. The March 2014 unveiling of ChinaSo was the result of the merging of the two state-run search engines Jike and Panguso.
Only time will tell if this new (ad)venture will prove more fruitful. However, several things are worthy of note here. First, despite repeated trials, the Chinese state has not given up on its efforts to expand its digital toolbox and weave a 'China Wide Web'. Rather, state media have pooled their resources to make their collective, strategic bets. The merging of Jike and Panguso into ChinaSo was backed by several state media giants, including People's Daily, Xinhua News Agency, and China Central Television. Branded explicitly as "China Search: Authoritative National Search," ChinaSo reinforces a sense of national identity. How does it perform? ChinaSo now ranks 225th in China and 2139th globally (Alexa.com, 8 February 2015), up from Jike's ranking of 376th in China and 3,174th globally that we last recorded in May 2013. While ChinaSo's rankings have increased over time, a low adoption rate continues to haunt the state search engine. Compared to China's homegrown commercial search giant Baidu that ranks first in China and fifth globally (Alexa.com, 8 February 2015), ChinaSo has a long way to go.
Second, in terms of design, ChinaSo has adopted a mixture of general and vertical search to increase its appeal to a wide range of potential users. Its general search, similar to Google's and Baidu's, allows users to query through a search box to receive results in a combination of text, image and video formats based on ChinaSo's search engine that archives, ranks, and presents information to users. In addition, ChinaSo incorporates vertical search focusing on a wide range of categories such as transportation, investment, education and technology, health, food, tourism, shopping, real estate and cars, and sports and entertainment. Interestingly, ChinaSo also guides searchers by highlighting "top search topics today" as users place their cursor in the search box. Currently, various "anti-corruption" entries appear prominently which correspond to the central government's high-profile anti-corruption campaigns. Given the opaqueness of search engine operation, it is unclear whether the "top searches" are ChinaSo's editorial choices or search terms based on user queries. We suspect ChinaSo strategically prioritises this list to direct user attention.
Third, besides improved functionality that enhances ChinaSo's priming and agenda-setting abilities, it continues to practice (as did Jike) sophisticated information filtering and presentation. For instance, a search of "New York Times" returns not a single result directing users to the paper's website—as it is banned in China. Instead, on the first page of results, ChinaSo directs users to several Chinese online encyclopedia entries for New York Times, stock information of NYT, and sanctioned news stories relating to the NYT that have appeared in such official media outlets as People's Net, China Daily, and Global Times. All information appears in Chinese, which has acted as a natural barrier to the average Chinese user who seeks information outside China. Although Chinese language versions of foreign new organisations such as NYT Chinese, WSJ Chinese, and BBC Chinese exist, they are invariably blocked in China.
Last, ChinaSo's long-term impact on China's search market and users remains unclear. While many believe ChinaSo to be a "waste of taxpayer money" due to its persistent inability to carve out its market share in competition, others are willing to give it a shot, especially with regard to queries for official policies and statements, remarking that "[there] is nothing wrong with creating a state-run search engine service" and that ChinaSo's results are better than those of its commercial counterparts. It seems that users either do not care or remain largely unaware of the surveillance capacities of search engines. Although recent scholarship (for instance here and here) has started to probe the Chinese notion and practices of privacy in social networking sites, no research has been conducted with regard to search-related privacy concerns in the Chinese context.
The idea of a state-sponsored search engine is not new, however. As early as 2005, a few European countries proposed a Euro-centric search engine "Project Quaero" to compete against Google and Yahoo! in what was perceived to be the "threat of Anglo-Saxon cultural imperialism." In the post-Snowden world, not only are powerful authoritarian countries—China, Russia, Iran, and Turkey—interested in building their own national search engines, democratic countries like Germany and Brazil have also condemned the U.S. government and vowed to create their own "national Internets."
The changing international political landscape compels researchers, policy makers and the public to re-evaluate previous assumptions of internationalism and confront the reality of the role of the Internet as an extension of state power and national identity instead. In the near future, the "the return of the state", reflected in various trends to re-nationalise communication networks, will likely go hand in hand with social, economic and cultural changes that cross national and international borders. ChinaSo is part and parcel of the "geopolitical turn" in policy and Internet studies that should command more scholarly and public attention.
Read the full article: Jiang, M. & Okamoto, K. (2014) National identity, ideological apparatus, or panopticon? A case study of the Chinese national search engine Jike. Policy and Internet 6 (1) 89-107.
Min Jiang is an Associate Professor, in the department of Communication Studies, UNC Charlotte. Kristen Okamoto is a Ph.D. Student in the school of Communication Studies, University of Ohio.