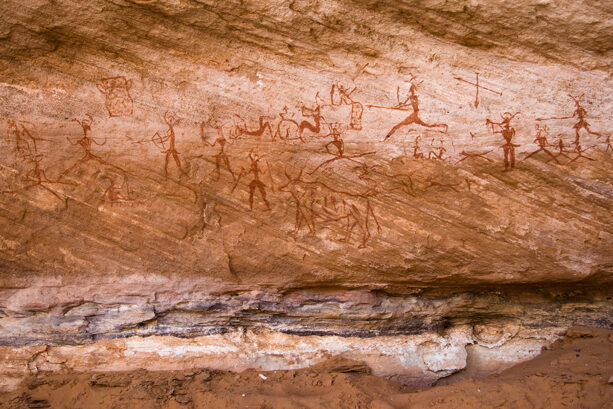 Wikipedia is often seen to be both an enabler and an equaliser. Every day hundreds of thousands of people collaborate on an (encyclopaedic) range of topics; writing, editing and discussing articles, and uploading images and video content. This structural openness combined with Wikipedia's tremendous visibility has led some commentators to highlight it as "a technology to equalise the opportunity that people have to access and participate in the construction of knowledge and culture, regardless of their geographic placing" (Lessig 2003). However, despite Wikipedia's openness, there are also fears that the platform is simply reproducing worldviews and knowledge created in the Global North at the expense of Southern viewpoints (Graham 2011; Ford 2011). Indeed, there are indications that global coverage in the encyclopaedia is far from 'equal', with some parts of the world heavily represented on the platform, and others largely left out (Hecht and Gergle 2009; Graham 2011, 2013, 2014).
These second-generation digital divides are not merely divides of Internet access (so discussed in the late 1990s), but gaps in representation and participation (Hargittai and Walejko 2008). Whereas most Wikipedia articles written about most European and East Asian countries are written in their dominant languages, for much of the Global South we see a dominance of articles written in English. These geographic differences in the coverage of different language versions of Wikipedia matter, because fundamentally different narratives can be (and are) created about places and topics in different languages (Graham and Zook 2013; Graham 2014).
If we undertake a 'global analysis' of this pattern by examining the number of geocoded articles (ie about a specific place) across Wikipedia's main language versions (Figure 1), the first thing we can observe is the incredible human effort that has gone into describing 'place' in Wikipedia. The second is the clear and highly uneven geography of information, with Europe and North America home to 84% of all geolocated articles. Almost all of Africa is poorly represented in the encyclopaedia—remarkably, there are more Wikipedia articles written about Antarctica (14,959) than any country in Africa, and more geotagged articles relating to Japan (94,022) than the entire MENA region (88,342). In Figure 2 it is even more obvious that Europe and North America lead in terms of representation on Wikipedia.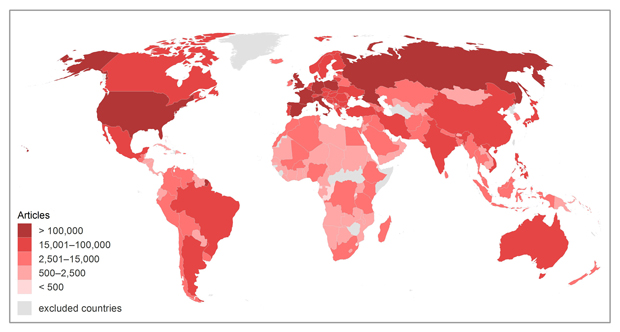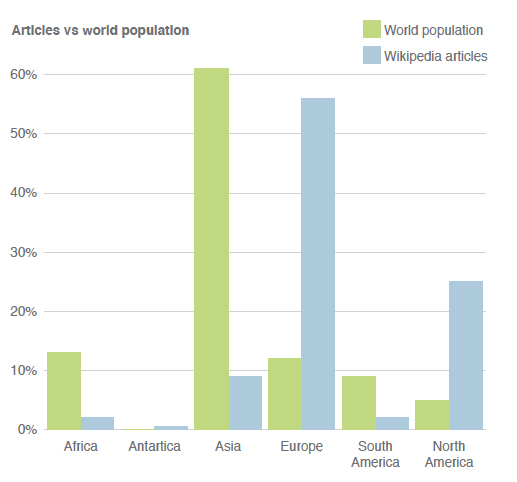 Knowing how many articles describe a place only tells a part of the 'representation story'. Figure 3 adds the linguistic element, showing the dominant language of Wikipedia articles per country. The broad pattern is that some countries largely define themselves in their own languages, and others appear to be largely defined from outside. For instance, almost all European countries have more articles about themselves in their dominant language; that is, most articles about the Czech Republic are written in Czech. Most articles about Germany are written in German (not English).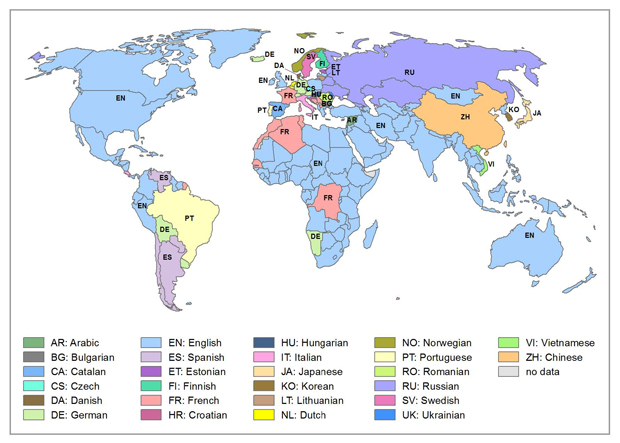 We do not see this pattern across much of the South, where English dominates across much of Africa, the Middle East, South and East Asia, and even parts of South and Central America. French dominates in five African countries, and German is dominant in one former German colony (Namibia) and a few other countries (e.g. Uruguay, Bolivia, East Timor).
The scale of these differences is striking. Not only are there more Wikipedia articles in English than Arabic about almost every Arabic speaking country in the Middle East, but there are more English articles about North Korea than there are Arabic articles about Saudi Arabia, Libya, and the UAE. Not only do we see most of the world's content written about global cores, but it is largely dominated by a relatively few languages.
Figure 4 shows the total number of geotagged Wikipedia articles in English per country. The sheer density of this layer of information over some parts of the world is astounding (with 928,542 articles about places in English), nonetheless, in this layer of geotagged English content, only 3.23% of the articles are about Africa, and 1.67% are about the MENA region.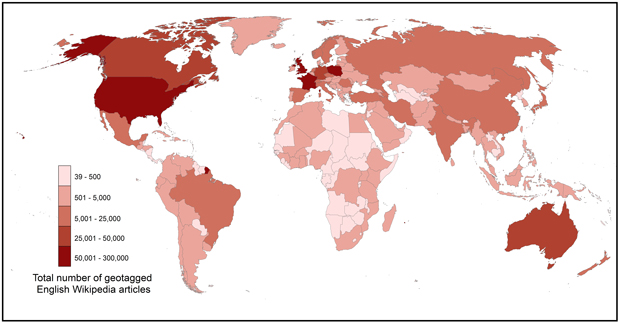 We see a somewhat different pattern when looking at the global geography of the 22,548 geotagged articles of the Arabic Wikipedia (Figure 5). Algeria and Syria are both defined by a relatively high number of articles in Arabic (as are the US, Italy, Spain, Russia and Greece). These information densities are substantially greater than what we see for many other MENA countries in which Arabic is an official language (such as Egypt, Morocco, and Saudi Arabia). This is even more surprising when we realise that the Italian and Spanish populations are smaller than the Egyptian, but there are nonetheless far more geotagged articles in Arabic about Italy (2,428) and Spain (1,988) than about Egypt (433).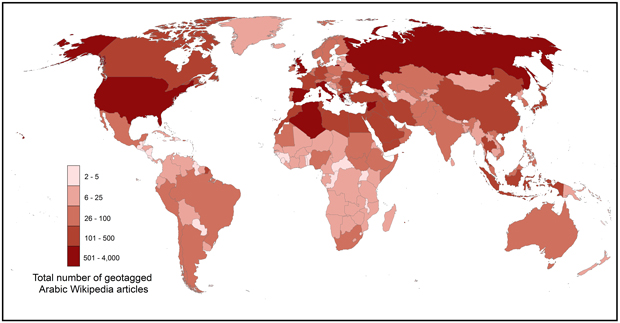 By mapping the geography of Wikipedia articles in both global and regional languages, we can begin to examine the layers of representation that 'augment' the world we live in. We have seen that, notable exceptions aside (e.g. 'Iran' in Farsi and 'Israel' in Hebrew) the MENA region tends to be massively underrepresented—not just in major world languages, but also in its own: Arabic. Clearly, much is being left unsaid about that part of the world. Although we entered the project anticipating that the MENA region would be under-represented in English, we did not anticipate the degree to which it is under-represented in Arabic.
References
Ford, H. (2011) The Missing Wikipedians. In Critical Point of View: A Wikipedia Reader, ed. G. Lovink and N. Tkacz, 258-268. Amsterdam: Institute of Network Cultures.
Graham, M. (2014) The Knowledge Based Economy and Digital Divisions of Labour. In Companion to Development Studies, 3rd edition, eds v. Desai, and R. Potter. Hodder, pp. 189-195.
Graham, M. (2013) The Virtual Dimension. In Global City Challenges: Debating a Concept, Improving the Practice. Eds. Acuto, M. and Steele, W. London: Palgrave.
Graham, M. (2011) Wiki Space: Palimpsests and the Politics of Exclusion. In Critical Point of View: A Wikipedia Reader. Eds. Lovink, G. and Tkacz, N. Amsterdam: Institute of Network Cultures, pp. 269-282.
Graham M., and M. Zook (2013) Augmented Realities and Uneven Geographies: Exploring the Geolinguistic Contours of the Web. Environment and Planning A 45 (1) 77–99.
Hargittai, E. and G. Walejko (2008) The Participation Divide: Content Creation and Sharing in the Digital Age. Information, Communication and Society 11 (2) 239–256.
Hecht B., and D. Gergle (2009) Measuring self-focus bias in community-maintained knowledge repositories. In Proceedings of the 4th International Conference on Communities and Technologies, Penn State University, 2009, pp. 11–20. New York: ACM.
Lessig, L. (2003) An Information Society: Free or Feudal. Talk given at the World Summit on the Information Society, Geneva, 2003.
---
Mark Graham is a Senior Research Fellow at the OII. His research focuses on Internet and information geographies, and the overlaps between ICTs and economic development.