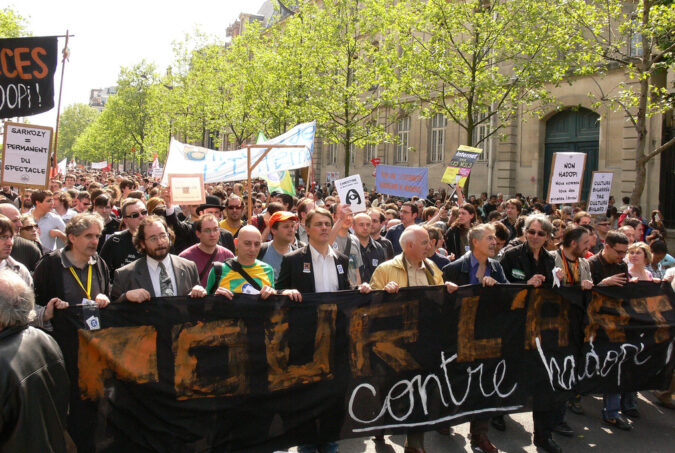 In the past few years, many governments have attempted to curb online "piracy" by enforcing harsher copyright control upon Internet users. This trend is now well documented in the academic literature, as with Jon Bright and José Agustina's or Sebastian Haunss' recent reviews of such developments.
However, as the digital copyright control bills of the 21st century reached parliamentary floors, several of them failed to pass. Many of these legislative failures, such as the postponement of the SOPA and PIPA bills in the United States, succeeded in mobilising large audiences and received widespread media coverage.
Writing about these bills and the related events that led to the demise of the similarly-intentioned Anti-Counterfeiting Treaty Agreement (ACTA), Susan Sell, a seasoned analyst of intellectual property enforcement, points to the transnational coalition of Internet users at the heart of these outcomes. As she puts it:
In key respects, this is a David and Goliath story in which relatively weak activists were able to achieve surprising success against the strong.
That analogy also appears in our recently published article in Policy & Internet, which focuses on the groups that fought several digital copyright control bills as they went through the European and French parliaments in 2007-2009—most notably the EU "Telecoms Package" and the French "HADOPI" laws.
Like Susan Sell, our analysis shows "David" civil society groups formed by socially and technically skilled activists disrupting the work of "Goliath" coalitions of powerful actors that had previously been successful at converting the interests of the so-called "creative industries" into copyright law.
To explain this process, we stress the importance of digital environments for providing contenders of copyright reform with a robust discursive opportunity structure—a space in which activist groups could defend and diffuse alternative understandings and practices of copyright control and telecommunication reform.
These counter-frames and practices refer to the Internet as a public good, and make openness, sharing and creativity central features of the new digital economy. They also require that copyright control and telecom regulation respect basic principles of democratic life, such as the right to access information.
Once put into the public space by skilled activists from the free software community and beyond, this discourse chimed with a larger audience, which eventually led many European and French parliamentarians to oppose "graduated response" and "three-strikes" initiatives that threatened Internet users with Internet access termination for successive copyright infringement. The reforms that we studied had different legal outcomes, thereby reflecting the current state of copyright regulation.
In our analysis, we say a lot more about the kind of skills that we briefly allude to here, such as political coding abilities to support political and legal analysis. We also draw on previous work by Andrew Chadwick to forge the concept of digital network repertoires of contention, by which we mean the tactical use of digital communication to mobilise individuals into loose protest groups.
This part of our research sheds light on how "David" ended up beating "Goliath", with activists relying on their technical skills and high levels of digital literacy to overcome the logic of collective action and to counterbalance their comparatively weak economic resources.
However, as we write in our paper, David does not systematically beat Goliath over copyright control and telecom regulation. The "three-strikes" or "graduated response" approach to unauthorised file-sharing, where Internet users are monitored and sanctioned if suspected of digital "piracy", is still very much alive.
France is an interesting case study to date, as it pioneered this scheme under Nicolas Sarkozy's presidency. Although the current left-wing government seems determined to dismantle the "HADOPI" body set up by its predecessor, which has proven largely ineffective in curbing online copyright infringement, it has not renounced the monitoring and sanctioning of illegal file-sharing.
Furthermore, as both our case studies illustrate, online collective action had to be complemented by offline lobbying and alliances with like-minded parliamentary actors, consumer groups and businesses to work effectively. The extent to which activism has actually gone 'digital' therefore requires some nuance.
Finally, as we stress in our article and as Yana observes in her literature review on Internet content regulation in liberal democracies, further comparative work is needed to assess whether the "Davids" of Internet activism are beating the "Goliaths" in the global fight over online file-sharing and copyright control.
We therefore hope that our article will incite other researchers to study the social groups that compete over intellectual property lawmaking. The legislative landscape is rife with reforms of copyright law and telecom regulation, and the conflicts that they generate carry important lessons for Internet politics scholars.
References
Breindl, Y. and Briatte, F. (2013) Digital Protest Skills and Online Activism Against Copyright Reform in France and the European Union. Policy and Internet 5 (1) 27-55.
Breindl, Y. (2013) Internet content regulation in liberal democracies. A literature review. Working Papers on Digital Humanities, Institut für Politikwissenschaft der Georg-August-Universität Göttingen.
Bright, J. and Agustina, J.R. (2013) Mediating Surveillance: The Developing Landscape of European Online Copyright Enforcement. Journal of Contemporary European Research 9 (1).
Chadwick, A. (2007) Digital Network Repertoires and Organizational Hybridity. Political Communication 24 (3).
Haunss, S. (2013) Conflicts in the Knowledge Society: The Contentious Politics of Intellectual Property. Cambridge Intellectual Property and Information Law (No. 20), Cambridge University Press.
Sell, S.K. (2013) Revenge of the "Nerds": Collective Action against Intellectual Property Maximalism in the Global Information Age. International Studies Review 15 (1) 67-85.
---
Read the full paper: Yana Breindl and François Briatte (2012) Digital Protest Skills and Online Activism Against Copyright Reform in France and the European Union. Policy and Internet 5 (1).