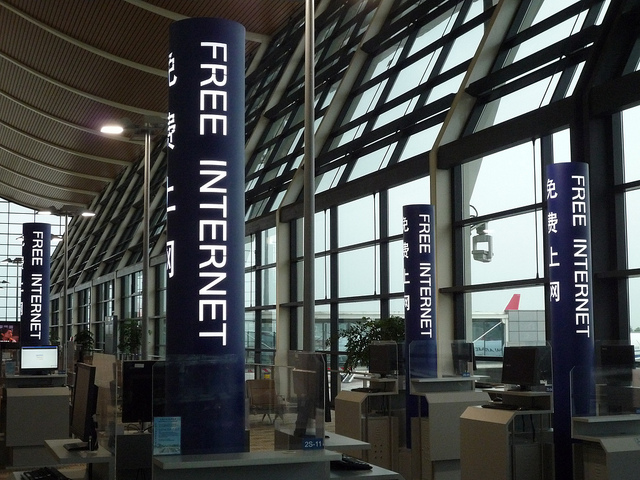 Ed: You recently presented your results at the OII's China and the New Internet World ICA preconference. What were people most interested in?
Gillian: A lot of people were interested in our finding that China was such a big online shopping market compared to other countries, with 60% of our survey respondents reporting that they make an online purchase at least weekly. That's twice the world's average. A lot of people who study the Chinese Internet talk about governance issues rather than commerce, but the fact that there is this massive investment in ecommerce in China and a rapid transition to a middle class lifestyle for such a large number of Chinese means that Chinese consumer behaviours will have a significant impact on global issues such as resource scarcity, global warming, and the global economy.
Others were interested in our findings concerning Internet use in 'emerging' Internet countries like China. The Internet's development in Western Europe and the US was driven by people who saw the technology as a platform for freedom of expression and peer-to-peer applications. In China, you see this optimism but you also see that a lot of people coming online move straight to smart phones and other locked-down technologies like the iPad, which you can only interact with in a certain way. Eighty-six percent of our Chinese respondents reported that they owned a smart phone, which was the highest percentage of all of the 24 countries we examined individually. A lot of these people are using those devices to play games and watch movies, which is a very different initial exposure to the Internet than we saw in early adopting Western countries.
Ed: So, a lot of significant differences between usages in emerging versus established Internet nations. Any similarities?
Gillian: In general, we find that uses are different but values are similar. People in emerging nations share the same values concerning free speech, privacy, and control as their Western counterparts. These are values that were embedded in the Internet's creation and that have spread with it to other countries, regardless of national policy rhetorics. Many people—even in China—see the Internet as a tool for free speech and as a place where you can expect a certain degree of privacy and anonymity.
Ed: But isn't there a disconnect between the fact that people are using more closed technologies as they are coming online and yet are sharing the same values of freedom associated with the Internet?
Gillian: There's a difference between uses and values. People in emerging countries produce more content, they're more sociable online, they listen to more music. But the way that people express their values doesn't always match what they actually do. There is no correlation between whether someone approves of government censorship and their concern of being personally censored. There's also no correlation in China between the frequency with which people post political opinions online and a worry that their online comments will be censored.
Ed: It seems that there are a few really interesting results in your study that run counter to accepted wisdom about the Internet. Were you surprised by any of the results?
Gillian: I was, particularly, surprised by the high levels of political commentary in emerging nations. We know that levels of online political expression in the West are very low (around 15%). But 40% of respondents in the emerging nations we surveyed reported posting a political opinion online at least weekly. That's a huge difference. Even China, which we expected to have lower levels of political expression than the general average, followed a similar pattern. We didn't see any chilling effect—i.e. any reduction of the frequency of posting of political opinions among Chinese users.
This matches other studies of the Chinese Internet that have concluded that there is very little censorship of people expressing themselves online—that censorship only really happens when people start to organise others. However, I was surprised by the extent of the difference: 18% of users in the US and UK reported posting a political opinion online at least weekly, 13 percent in France, and 3 percent in Japan; but 32% of Chinese, 51% of Brazilians, 50% of Indians, and 64% of Egyptians reported posting online at least weekly. This shows that these conclusions we have drawn about low levels of online political participation based on studies of Western Internet users are likely not applicable to users in other countries.
Of course, we have to remember that this is an online survey and so our results only reflect what Internet users report their activities and attitudes to be. However, the incentive to over-report activities is probably about the same for the US and for China. The thing that may be different in different countries is what people interpret as a political comment. Many more types of comments in China might be seen as political since the government controls so much more. A comment about the price of food might be seen as political speech in China, for example, since the government controls food prices, whereas a similar comment may not be seen as political by US respondents.
Ed: This research is interesting because it calls into question some fundamental assumptions about the Internet. What did you take away from the project?
Gillian: A lot of scholarship on the Internet is presented as applicable to the whole world, but isn't actually applicable everywhere. The best example here is the very low percentage of people participating in the political process in the West, which needs to be re-evaluated with these findings. It shows that we need to be much more specific in Internet research about the unit of analysis, and what it applies to. However, we also found that Internet values are similar across the world. I think this shows that discourses about the Internet as a place for free expression and privacy are distributed hand-in-hand with the technology. Although Western users are declining as an overall percentage of the world's Internet population, these founding rhetorics remain powerfully associated with the technology.
---
Read the full paper: Bolsover, G., Dutton, W.H., Law, G. and Dutta, S. (2013) Social Foundations of the Internet in China and the New Internet World: A Cross-National Comparative Perspective. Presented at "China and the New Internet World", International Communication Association (ICA) Preconference, Oxford Internet Institute, University of Oxford, June 2013.
Gillian was talking to blog editor Heather Ford.