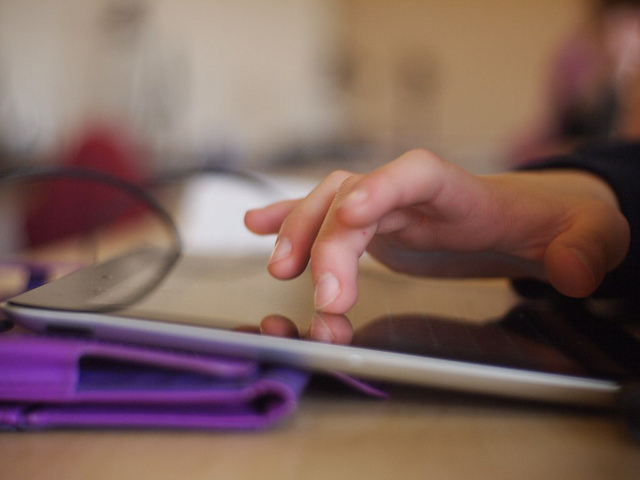 In the realm of education and technology, a central question that researchers and policymakers alike have been grappling with has been: why does there continue to be such vast amounts of resources invested in education technology and related initiatives without substantial evidence to suggest that the promises of such technologies and related initiatives are being fulfilled? By adopting a political economy approach, which examines the social, political and economic processes shaping the production, consumption, and distribution of resources including information and communication technologies (Mosco, 2009), we can begin to understand why and how the considerable zeal surrounding education technologies and the sustained investments persist.
An exemplar case for this type of analysis, giving us a deeper understanding of the structural forces shaping the K-12 institutional circuits, would be the recent tech-centred incidents riddling the Los Angeles Unified School District.
iPad-for-all and the MiSiS CriSiS
Last month the Los Angeles Unified School District Superintendent, John Deasy, and Chief Technology Officer, Ron Chandler, both resigned due to the $1 billion iPad initiative and what is being called the MiSiS CriSiS. Underpinning these initiatives are idealistic beliefs in the powers of technology and the trend towards the standardisation and corporatization of the US K-12 education.
Despite the dire need for classroom upgrades and recovery from the recession-induced mass teacher layoffs and library closures, this past year John Deasy announced the plan to direct the district's resources toward an initiative that places iPads in all 640,000 LAUSD students' hands. Perpetuating the idealistic promise that technology acts as a leveling tool in society, Deasy pledged that this initiative would afford equal educational opportunities across the board regardless of race or socioeconomic background of students. He stated that this would allow low-income students to have access to the same technological tools as their middle class counterparts. Commendable as the effort was, this overly idealised sentiment that technology will ameliorate the deeply rooted systemic inequities facing society is partly responsible for the furthering of misdirected investments and ineffective policies in the education technology realm.
The My Integrated Student Information System was meant to streamline the course registration process and centralise the storage of all student records. For reasons that haven't been entirely unearthed yet, the software was pushed by Deasy and was launched a couple months ago despite various warnings from administrators and teachers that it wasn't ready. Leaving many students disenfranchised without the necessary courses needed for college and unverified accuracy of senior transcripts for college applications, the MiSiS CriSiS brings to light one of the main concerns with these technological integration projects in schools and the interests involved—accountability. Who is accountable for ensuring there is a back up of records or to get students into the classes they need? Who is accountable for ensuring the most reliable software is chosen? While there has been heightened accountability measures in the form of high-stakes testing directed towards teacher effectiveness, there still remains little accountability regarding the process of choosing specific technology services, their plans for implementation, and overall effectiveness of the services or initiatives.
These incidents are direct results of the broader political-economic structure of public education in the United States. This is a structure characterised by interrelationships between the federal, state, and local governments and the private sector. Central to this institutional structure and the proliferation of ICT-related education initiatives are the workings of digital capitalism.
Digital Capitalism and the American Educational-Industrial Complex
Federal, state, and local governments all contribute funding to K-12 public education in the U.S. but according to the U.S. constitution, states are ultimately responsible for their public schools. The bulk of funding for schools comes from local taxes, which creates vast inequalities across the country in terms of educational resources, infrastructure, and teaching. There has been sustained effort from the federal level to ameliorate these inequities in education, from the Elementary and Secondary Education Act of 1965 and its subsequent amendments to the highly contentious Race to the Top initiative that has built-in incentives for underachieving schools to increase student performance. However, these efforts are exceptionally limited and riddled with problems. This has only been complicated further with the economic downturn in the US, which has resulted in massive layoffs in public education resulting in an unrelenting and growing dependence on private sector resources.
Accountability, as mentioned above, is a major theme discussed in the context of education and digital capitalism. Again, while initiatives like No Child Left Behind and Race to the Top are meant to hold teachers accountable, there is still a lack of accountability measures for private sector involvement in education. Another force of digital capitalism that is responsible for the sustained proliferation of ICT-driven initiatives in education is the shift in the perceived goals of education from serving to ensure an enlightened citizenry to being valued for its vocational outputs. This is being fuelled by global competitiveness discourses presented under the veil of "21st century skills" rhetoric in order to keep the U.S. economically competitive. This has made the circular relationship between government and the corporate technology sector more salient in education. Simply put, the government is putting pressure on the public to ensure new generations are primed with the necessary 21st century skills in order to participate in the labor market while also enhancing the position of the US in the global economy and the private sector is pushing this discourse further because they have products to sell to fulfil this elusive goal. This is further exemplified in the new standardised curriculum project rolling out in K-12.
Technology Driven Corporatisation of American Public Education
This past year 45 states adopted the Common Core State Standards, which is meant to standardise curriculum across the country under the assumption that it will place all students regardless of race or class at the same level across all subjects. One major technological implication of this standardisation includes the standardisation of delivery systems, signalled by the iPads with Pearson education software project in LAUSD. This creates a direct line of entry for private companies to become even further entrenched in education. In many ways, these developments are making the privatisation efforts more concrete and foreshadowing the evolving structure of the public K-12 system. Privatisation doesn't necessarily mean that schools are going to be under direct control of private companies (although this is already happening in certain parts of the country; you can read about it in my forthcoming article) but it does represent the transformation of education as a public good into a profit centre for private interests, as demonstrated in LAUSD.
In the LAUSD situation, it is no coincidence that John Deasy has an extensive background in private industry and specifically education technology industry. Deasy came from the Gates Foundation, one of the leading education partners. Former Deputy Superintendent Jamie Aquino came from Pearson, the curriculum developers that were to provide the software for the iPad initiative. What's more significant about these close ties and the iPad for all project is that before the bidding went public, Aquino and Deasy had already begun a backdoor deal with both Pearson and Apple to carry out the initiative thus illustrating the conflicts of interests between government, industry, and education.
Conclusion
Perhaps the recent incidents that have been riddling the Los Angeles Unified School District will bring more public attention to these issues and a push for more evidenced-based policies will emerge. Nonetheless, the issues arising in LA Unified represent broader structural, political-economic forces that shed light on the answer to the question posed earlier. Attention to these larger structural processes being propelled by such forces is what drives my own research, which aims to extend digital exclusion scholarship and provide evidence-based suggestions for more sustainable policies that maximise benefits for the populations they seek to serve. In this vein, posing a couple of preliminary policy suggestions might be appropriate.
In a nutshell, it would be naïve to assume that the private sector has nothing to offer the public sector and that public schools are not in a position to benefit from the resources they bring. However, the decision-making power needs to be more balanced among all stakeholders in order for these benefits to be realised. Several suggestions for policymakers are made in an article based on my previous research that is forthcoming but can similarly be applied here. Overall, there is a need for impact assessment measurements for these interventions that would provide valuable insight into the effectiveness of the ICT-driven initiatives. Additionally, a recommendation for more accountability measures in each stage of these projects is needed in order to ensure that the benefits are being realised and promises fulfilled. Ultimately, while perhaps a bit idealistic at this point, a shift from an economic focus to a social rights based approach to policymaking in this realm would help to create more sustainable policies that maximise the benefits for groups they're meant to serve.
Admittedly, this is a simplified overview of the forces at play in the current restructuring of K-12 but hopefully it has provided useful insight into how technology's role in society is not determined by the technology itself but rather by a complex ecosystem of networks and power relations that shape larger social structures. It is, of course, much more complex with many layers of discourses and sociopolitical entanglements but my goal is that this snapshot has highlighted the importance for understanding the social, political, and economic underpinnings in order to grasp the larger picture of technology's role in society and, more specifically, education.
References
Mosco, V. (2009). The Political Economy of Communication. London. Sage Publishing.
Picciano, A.G., & Spring, J.H. (2013). The Great American Education-Industrial Complex: Ideology, technology, and profit. Routledge.
Schiller, D. (1999) Digital Capitalism. Cambridge: The MIT Press.
For more on Digital Capitalism, see Dan Schiller (1999) Digital Capitalism.
This concept was drawn from Picciano and Spring's (2014) The Great American Education-Industrial Complex: Ideology, Technology, and profit.
---
Paige Mustain is a DPhil student at the Oxford Internet Institute. Her research lies at the intersection of education and digital exclusion. More specifically, she focuses on the political economy of information and communication technology (ICT) development initiatives in the realm of education.